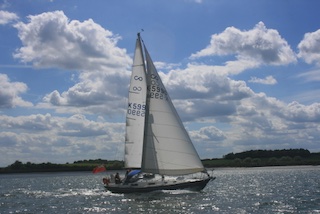 Length (LOA): 32 ft / 9.75m
Width (Beam): 10ft / 3m
Keel (Draft): 5ft 6in / 1.75m
Year (Launched): 1978
Afrita was completed in 1978 by the Jeremy Rogers boat yard in Lymington. Originally she was called Sunrise and then, at some point before 1984, her name was changed. I purchased Afrita from a lovely family in Scotland in 2016 and have been enjoying sailing her ever since.
I berth Afrita at Suffolk Yacht harbour to make the most of sailing. There are also some bigger jobs that need attending to such as replacing the standing rigging and stainless steel work that can be done by businesses at Suffolk Yacht Harbour. It also has direct access to the river so I don't spend time waiting to lock in or out which allows me to maximise my sailing time and get further offshore.
I'm still building up my offshore experience with the goal to eventually cross oceans. A long held dream of mine is to explore the pacific islands. Particularly Galapagos, Hawaii, French Polynesia and Fiji before arriving in New Zealand. Like all sailing plans, it's just one possible voyage and I would be just as happy to sail and explore the British Isles.
This is Afrita's last reported position